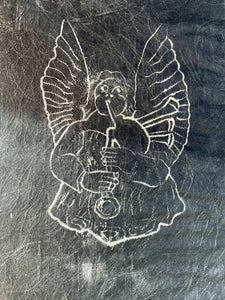 When I was traveling in Scotland, I searched high and low for images of the bagpipe playing angel. At the top of a column in Roslyn Chapel, I found a Celtic band carved. Photographs were forbidden, so my search continued. I found this image at St. Ives Cathedral in Edinburgh. I was completely taken with it. It's so evocative of collective memory and magic.
This is a linocut on Asian rice paper. For anyone that this piece echos with, it has deep meaning. It's very light and airy.
Size: 11 1/2" x 12 1/2"