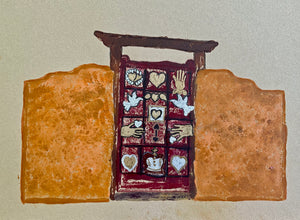 This door, with its magical milagros, is simply enchanting, but this was a front door. Since I'm doing doors in walls, I took poetic license on this one, and created the saffron color of the walls.
This is a collagraph with added details in gold and silver pens.
This will be available to order as cards, prints, and journals from Gooten, on the website. Look for the link
Dimensions: 11" x 7 1/2. Set of 6 cards: $60. Set of limited edition original prints: $1200.