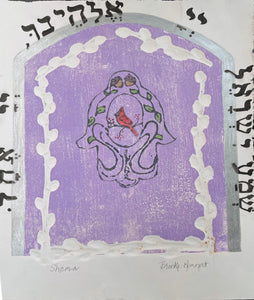 The "Shemah" is the core prayer of Judaism. The Hebrew says the first part of the prayer; Here O Israel, Adonai is our God, Adonai is One." This prayer is the centerpiece of Judaism, which declares that G-d is One. Observant Jews say it during morning and evening prayers.

The center of the piece is a Hamsa. This is a protection amulet that crosses cultures. It is older than Judaism.
 This piece is a collagraph, Hebrew calligraphy, and acrylic.
Size: 11" x 15"- Unframed