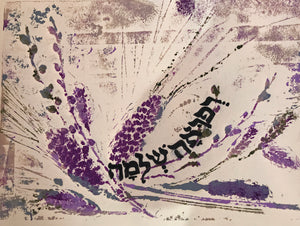 A collagraph and Hebrew calligraphy. 10" x 13" - Unframed.
"R'fuah Sh'leimah"
This phrase, is in the last part of Mi Sheberach, the prayer for healing. It means "Complete healing". This is my constant prayer at this time in the world.
The English translation of this passage:
Bless those in need of healing with r'fuah sh'leimah,
the renewal of body, the renewal of spirit, and let us say, Amen.
This piece continues the body of work that uses wheat and barley, the ancient grains, and pussy willows to create a collagraph. Much of my work is focusing on messages of healing, and reciting these prayers as I put them on paper.
Size: 10" x 13" - Unframed.